Sparking Student Interest in Advertising Careers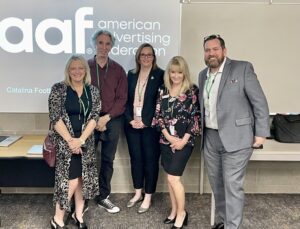 American Advertising Federation Tucson (AAF Tucson) is excited to announce the launch of a new program aimed to give high school and college students the opportunity to learn about career opportunities in marketing and advertising. Industry professionals from all aspects of the advertising industry come together to talk about their careers, how they got to where they are now, and advice on how to get started with a career in advertising.
The first engagement of this new speakers' group was at Catalina Foothills High School as part of their Career Connection Series. Presenting to a group of 50+ students, our speakers talked about their positions and fielded questions from students. Speakers included:
Leeza Glazier Starks, News Director, KGUN 9, spoke about the function and responsibilities of the news department, including careers available in broadcast journalism, as well as, the separation between the news department and advertising sales within a TV station.
Steven Meckler, Owner, and Photographer, Steven Meckler Photography explained the role of a commercial photographer as it relates to creating advertising content, client acquisition, and the future of photography techniques.
Michelle Garcia-Estrada, Media Buyer and Account Executive at Hilton & Myers Advertising described the function and services offered by an advertising agency, from client relations to media buying and creating content for advertisements.
Kim Seyller, Senior Account Manager at iHeart Media, gave insight on advertising sales in radio and its associated media including streaming, podcasts, traditional radio, and special event and concert opportunities.
Greg Minton, Sales Director at KGUN 9 explained how advertising is sold at television stations, highlighting how stations use advertising to help local businesses be successful.
Various AAF Tucson members are part of this new speaker's series, providing a variety of job types and work experiences, to reach out to students on how to make advertising and marketing part of their future. The goal is to introduce students to the vast opportunities in the industry and to foster interest and excitement about advertising.
High schools and colleges who are interested in booking a date with our speakers can contact AAFTucson to discuss available dates and speakers for the presentation.