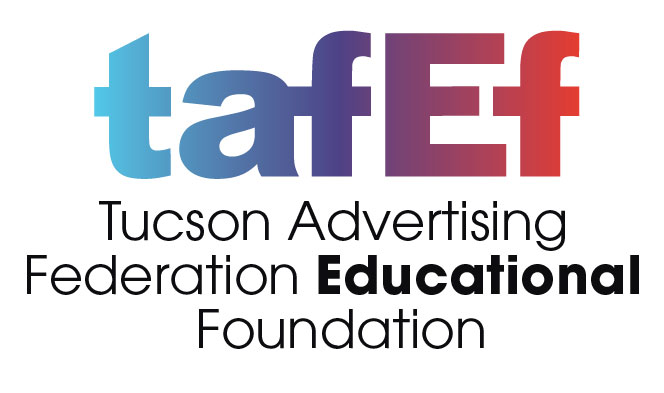 Tucson Advertising Federation Educational Foundation (TAFEF) is the 501(c)3 component of AAF Tucson dedicated to facilitating the education of the next generation of media and marketing professionals through an endowment fund established as a result of our Media Partnership Program.  You can help make a direct impact on the future by supporting TAFEF with a tax-deductible contribution. Contact us for more information.
Every fall, TAFEF honors Tucson's notable advertising professionals– past, present, and future–by hosting the annual Hall of Achievement Awards. Those awards include induction of honorees into the Tucson Advertising Hall of Fame, which recognizes marketing and industry professionals who have led, mentored and inspired others as part of the AAFT. 
Other Hall of Achievement awards include the AAF Silver Medal Award for lifelong contributions to the industry here, the Ad Professional of the Year, for being an outstanding role model to others in the industry, and the Next Generation Award, which recognizes outstanding advertising professionals, age 40 and younger, who have made a significant impact on the industry.
Our History
TAFEF was born from a focus on the future and in making sure our industry's next generation has access to internship opportunities they need to be successful. AAF Tucson endowed an educational enrichment fund for scholarships that have been awarded to students in the following local schools:
Pima Community College

The University of Arizona
The Catholic University of America, Tucson
Southwest University of Visual Arts (operations ceased) 

The Art Institute of Tucson

(operations ceased) 
Since 2001, we have awarded tens of thousands of dollars in scholarships to deserving AAF Student Chapter members.
Schools We Have Supported
TAFEF Board of Directors
Officers
---