.
.
.
The State of Media in Arizona, with Arizona Broadcasters Association's Chris Kline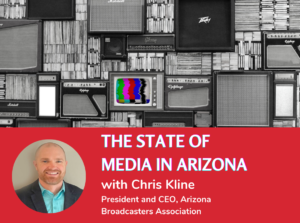 Chris Kline, president and CEO of the Arizona Broadcasters Association presents the State of Media in Arizona. Kline will share their updated data on how Arizonans are using media, new trends, and how current Nielsen data impact the local market.
Chris Kline is the President and CEO of the Arizona Broadcasters Association. In the role, he leads all shared services, training/scholarship programs, and advocacy efforts for 200 radio and TV stations in Arizona with a focus on future-proofing local media for the digital future. Chris previously spent 12 years working at the ABC media brand in Phoenix, where he held roles ranging from reporter to digital director to news director. He also worked for The Arizona Republic newspaper and NBC station in Phoenix as well as at KTAR radio and CNN in Washington, DC. Chris services on boards at Arizona State's Walter Cronkite School of Journalism, University of Arizona's Journalism School, Arizona's emergency communications committee, and the Rocky Mountain Chapter of the National Academy of Television Arts and Sciences.
Tuesday, January 18th
11:30 am -1 p.m.
at the new DoubleTree Tucson
Downtown Convention Center
Current AAFTucson Members $40
Nonmembers $50
Reserved Table of 8, $320 
Price includes networking meet and greet, plated lunch with dessert, coffee/tea, and speaker presentation at the beautiful new Doubletree at the Downtown Tucson Convention Center.