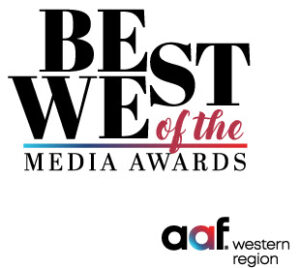 The Best of the West Media Awards are now open to all media and agencies in the Western United States who have demonstrated excellence in community service and have provided outstanding benefits to those in the community that the media serve. Nominate yourself, your company, or those you work with! 
Sponsored by the American Advertising Federation Western Region, the Best of the West Media Awards honors individuals and companies who serve their communities in ways that go beyond just reporting the news. Awards are presented for work created and distributed from October 1, 2020 through September 30, 2021.  Awards will be presented virtually in November 2021. 
Nominations Deadline: October 8, 2021
$45 for professional nominations  $35 for student nominations. 
Awards to be Presented
1.
Radio Broadcaster of the Year
               a.      Large Market (Nielsen Markets Ranking 1-50)
               b.      Mid-Size Market (Nielsen Markets Ranking 51 – 100)
               c.      Small Market (Nielsen Markets Ranking 101 +)
2.     Television Broadcaster of the Year
               a.     Large Market (Nielsen Markets Ranking 1-50)
               b.     Mid-Size Market (Nielsen Markets Ranking 51 – 100)
               c.     Small Market (Nielsen Markets Ranking 101 +)
3.      Newspaper of the Year                               
               a.     Print Circulation 200,000 or more           
               b.     Print Circulation 50,000 – 200,000
               c.     Print Circulation Under 50,000
4.   Outdoor Company of the Year
               a.     Large Market (Nielsen Markets Ranking 1-50)
               b.     Mid-Size Market (Nielsen Markets Ranking 51 – 100)
               c.     Small Market (Nielsen Markets Ranking 101 +)
5.      Magazine of the Year
6.     Western Region Website of the Year
7.     Blog/Podcast of the Year
8.      Advertising Agency of the Year
               a.     Over $50 million in billing
               b.     $10 million to $50 million in billing
               c.      Under $10 million in billing
9.      Media Agency of the Year
               a.     Over $50 million in billing
               b.     $10 million to $50 million in billing
               c.      Under $10 million in billing
10.          Governmental Media Outlet of the Year
           a. Print
           b. Radio/TV/Internet
11.          Locally produced radio or television show of the Year
12.          Public Service Campaign or Event of the Year
13.          Best Coverage of a local news story of the Year
14.          Media Professional of the Year
15.          Media Talent of the Year
16.          Agency Professional of the Year
17.          Young Achiever Award
18.          Best college Media Outlet of the Year (Radio, TV or Newspaper)
19.          Best college Web Site/Blog of the Year
20.          Best Student Media Representative of the Year
 LINK TO MAKE A NOMINATION HERE